This quote from jazz guitarist Bobby Broom is part of a series of inspiring Bobby Broom quotes I've culled from different Bobby Broom interviews. He is extraordinarily articulate on topics as far ranging as passion, strengths, music, connection, persistence, jazz and education. Bobby Broom is a superb jazz guitarist in the vein of Wes Montgomery and George Benson, but does his own unique thing on the instrument. I had an opportunity recently to see a transformative show with his trio at the Vermont Jazz Center and continue to be inspired by being in his presence for an evening. You can check him out here!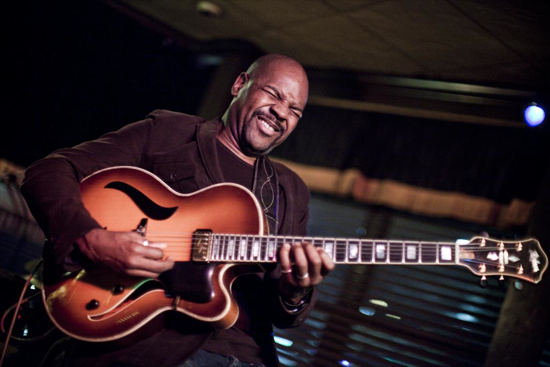 "I feel fortunate to have grown up in the '60s and 70s. That was a time that you could hear the gamut of musical styles on the "top 40" radio stations. Rock 'n roll, R&B, country, soul, folk, funk and jazz were all in heavy rotation. If the general public was able to relate to a song, via the melodic, lyric, harmonic, overall song structure, or some magical combination of these, a song of any style could be a hit. So that meant that between the ages of 4 years old to 14, I heard a lot of melodies in a variety of styles that made for the shaping of a pretty wide and varied musical palate and awareness." – jazz guitarist Bobby Broom
I have always found it curious that jazz musicians have for the most part turned up their noses to any popular song written after 1960. There are of course exceptions to this – Moon River comes first to mind. If jazz musicians are playing something that's not an original, the song was most likely written pre-1960, and in fact probably was pre-1950.
This boundary makes sense to me for older jazz musicians. If they were born in the 1930s for example, the music of their youth was very specific, and had nothing to do with the music of the 70s and 80s that I grew up with.
But for anyone younger, closing off oneself to the music that most likely ignited your musical passion as 'not jazz' is problematic. There are enough boundaries in the world without adding artificial ones. Whatever we say "no" to is now no longer available for us to be inspired by.
We love something as a child and then an external (or internal) voice tells us that's not valid. Sadly, at one point we listen to that critic.
Walls we build in our lives constrict and deaden. It's only by saying "yes" to all of life, all that life presents us, in its glory and pain that we can relax and ground the hard work of being alive in something vital. And our passions that can be traced back to childhood are to me our purest, most important personal wealth.
You can see where I'm going with this for all of us. This concept is not just about jazz, it's about life. Every wall erected kills off life. And every barrier you break down floods you with vitality. Here's to you breaking down barriers and jumping into the exciting stream of your whole life.
Explore this idea more fully in Quixote Consulting's team building and team development activities: 
StrengthsFinder – Gallup's online assessment of unique top five strengths. Learn your team's strengths and learn how to put them into action.
Strengths At Work – Gallup research says less than 20 percent of us have the opportunity to do what we do best everyday. Learn how to put your strengths in play for consistent, near-perfect performance.
At Your Best – Explore how to give your best and play to your strengths for sustained individual success.
Strong Management – Strengths based training for managers to help their people be at their best.